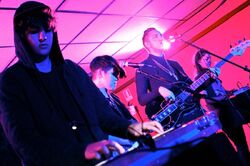 The xx are an English indie pop band, formed in Wandsworth, London in 2005.
The group released their debut album, xx in August 2009. The album ranked highly on many best of 2009 lists, placing number one on the list compiled by The Guardian and second for NME. In 2010, the band won the Mercury Music Prize for their debut album. Their second album, Coexist, was released on 10 September 2012.[1]
The xx performed the song "Together" co-written by Jamie Smith, Oliver Sim and Romy Madley Croft for the 2013 film adaptation of The Great Gatsby.
References
Edit