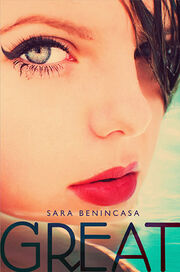 Great is a contemporary retelling of The Great Gatsby by Sara Benincasa.
Official synopsis
Edit
Everyone loves a good scandal.
Naomi Rye usually dreads spending the summer with her socialite mother in East Hampton. This year is no different. She sticks out like a sore thumb among the teenagers who have been summering (a verb only the very rich use) together for years. But Naomi finds herself captivated by her mysterious next-door neighbor, Jacinta. Jacinta has her own reason for drawing close to Naomi-to meet the beautiful and untouchable Delilah Fairweather. But Jacinta's carefully constructed world is hiding something huge, a secret that could undo everything. And Naomi must decide how far she is willing to be pulled into this web of lies and deception before she is unable to escape.